The K's Kids Parents' Support Center is
the extension and application
of the K's Kids learning triangle.
The value of a toy is not based solely on fun, but the balance of fun and learning. As a child's developmental process is a process of learning, a high quality toy is one that allows the child to learn and play at the same time.
The K's Kids Learning Triangle is the foundation of all K's Kids products. From concept to structure, and from the color of a button to the placement of a mirror, all details of our products are designed based on the nine developmental aspects of the K's Kids learning triangle.

By buying a K's Kids product, you have at
the same time purchased an individually and
carefully designed learning system.
The K's Kids Parents' Support Center provides guidelines on how kids can make use of the toy to have fun and learn at the same time. These guidelines are based on children's age and developmental stages.
Through the web, printed material and apps for mobile devices, the K's Kids Parents Support Center provides comprehensive after-sales support to parents who have purchased K's Kids products. It helps parents take full advantage of the educational elements of our products.
When parents buy our products,
it is the begining of our relationship,
not the end.
The mission of K's Kids is to be a partner you can count on in helping your child grow and enjoy learning. Are you a parent trying to find the right toy for your child? Or are you exploring the learning values of a K's Kids toy you own? You can find all the information and support you need here.
Bring a K's Kids toy home today...and begin the journey of fun learning!
Product
Developmental
Guidelines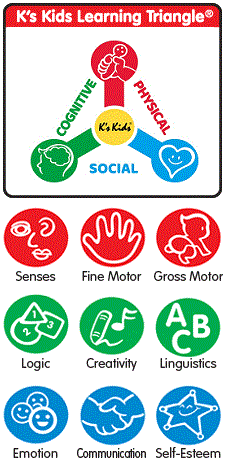 Sensory
The fundamental senses of seeing, tasting, hearing, smelling & feeling encourage a child's curiosity and activate his mind to discover the things around his world. Toys with strong stimuli in this category are tremendously important for the early stages of child development.

Fine Motor Skills
Fine motor skills are those smaller actions like picking things up between the thumb and finger or using the toes to wriggle or the lips and tongue to taste and feel objects.

Gross Motor Skills
Gross motor skills are larger movements involving the arm, leg, or feet muscles or the entire body - toys that enhance kicking, crawling, running, and jumping are meant to train a child's gross motor skills.

Logical Intelligence
Logical training enables babies to make connections between pieces of information. Toys like puzzles and building blocks can strengthen a child's intelligence of logic, sequence, conceptualization, reasoning and problem solving.

Creative Intelligence
Colors, shapes, learning how to draw, getting familiar with music and rhythm, all goes to aid the growth of a child's creativity.

Linguistic Intelligence
Linguistic Intelligence is the ability to use sound and language to express himself and to understand other people while a child grows up. Toys that enhance sensitivity to the meaning of words, sounds, rhythms and inflections are good for linguistic development.

Emotional
A healthy child should be able to control and express his emotion. Feeling being loved and protected develops his sense of security. Toys that can become a child's pal and help him express emotion are very important for a child to learn how to interact effectively with others with mutual trust.

Communication Skills
Communication Skills is the ability to interact appropriately with others. Good communication skills lead a child to perform cooperative tasks and become productive team members.

Self-Esteem
Self-Esteem is an overall sense of achievement a child feels from the important people around him, particularly parents and peers. When a child can complete the task offered by a toy, he feels good of himself. It helps build up a stronger self-esteem with a better judgment about his own worth.